Ah, introductions. How tricky you can be.
Well, I would first like to welcome all readers to the Economical Vegan and will briefly explain exactly what I am hoping to accomplish.
Even though I have been a vegan for around four years now, I still remember the difficulties of transition - and the severe dent it can leave in your pocket - even after being a vegetarian for several years. All those fancy, ready-made products in the health food aisles - tofukey this, tofutti that - come at a very hefty price. Not only are they heavy in cost, but also often in fat, calories, sodium, sugars, and other additives. Besides, the taste often leaves much to be desired in many of these products.
So, I have decided to begin sharing my recipes with all of you. I hope to inspire you in the kitchen, as well as myself, since this will give me motivation to continue coming up with tasty yet frugal vegan dishes.
To be clear - these recipes are NOT limited to vegans!
Sure, that's the primary target, however vegetarians and omnivores alike are sure to enjoy the meals that will be posted here. Try out a recipe (or two, or three..) and see how easy, delicious - and affordable! - adding a few vegan meals to your diet every week can be.

I've decided on a simple recipe to start this off. Although the ingredients can tend to be pricey, this makes for a nice, light lunch packed full of nutrients that can be thrown together in minutes.

Spinach Salad with Strawberries and Toasted Pine Nuts
1 cup loosely packed spinach
4-5 strawberries, sliced
1/4 cup pine nuts
2 TBS balsamic vinegar
1 TBS olive oil
Freshly ground pepper, to taste
Note: Pine nuts are found cheaper in bulk, and you can definitely use less (1 - 2 TBS) in the recipe and it will still taste great.

On medium low heat, heat oil and pine nuts in a small skillet until the pine nuts are golden brown.

Immediately pour hot oil and pine nuts over the spinach.
Add balsamic vinegar and pepper.
Top with sliced strawberries.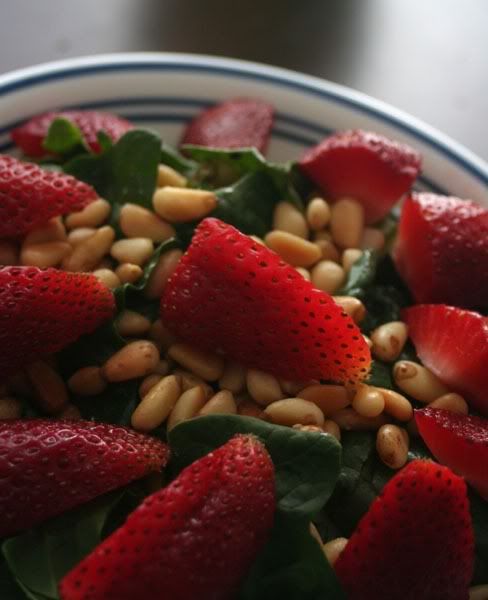 However, taking a different (more sugar-filled) route, why not try out the recipe for these incredible cookies? Be sure to eat in moderation though, these wonderful treats are far from a health food.

Double Chocolate Pecan Cookies

1/2 cup softened vegan margarine

1/2 cup unsweetened apple sauce

1 TBS vanilla

2 TBS soy (or rice or another nut) milk

3/4 cup brown sugar

1/2 cup white sugar

4 TBS cocoa powder

2 egg substitute equivalent

2 1/4 cup whole wheat flour

1 tsp baking powder

1/2 cup pecan halves or pieces

1 1/2 cups semi-sweet chocolate or carob chips

Preheat oven to 350 F.

In a large mixing bowl, cream together margarine, apple sauce, vanilla, egg substitute, and milk until well mixed.
Add sugars and mix fully.
In another bowl, mix flour, cocoa, and baking powder. Add to wet and mix well.
Stir in pecans and chocolate chips.
Spoon onto lightly oiled cookie sheet and cook for 10 minutes or until done.
Serves: Depends on cookie size, typically 12 large or 24 small.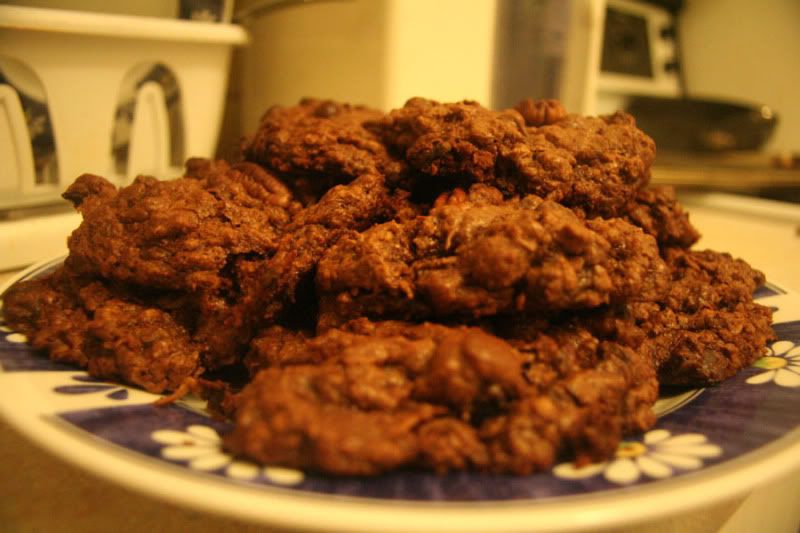 Check back soon for more recipes!