Sorry about the pun, but it felt appropriate. Anyhow, I picked up some miso the other day with the intention of using it in another recipe I've yet to get around to. However, there's a lot in a container so I decided to use up the vegetable broth in the fridge and make some miso soup with rice noodles.
Note: Since miso can often be quite costly at some supermarkets and natural food stores, try visiting your city's asian markets or Chinatown. You can usually find it much cheaper in one of these places (and be sure to pick up some rice noodles on your visit!)
Miso Soup
3 1/2 cups vegetable broth
1 medium sized carrot, shredded
4 TBS chopped onion
3/4 cup extra firm tofu, cubed
1/6 package of rice noodles
1 clove garlic, minced
3 TBS miso paste

In a medium sized sauce pan, add broth, carrots, tofu, garlic and onion. Heat on medium high for about 4 minutes.
Add rice noodles and stir them in as they begin to soften.
Meanwhile, dissolve miso paste in 1/4 - 1/2 cup warm water.
When carrots and noodles are tender, remove pan from heat. If it had been boiling, let it cool, then add the miso/water mixture. Stir well and serve.
Serves: 2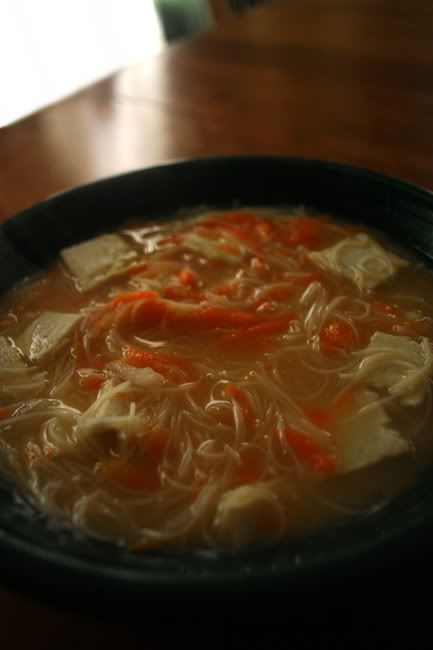 This is really easy and quick to put together, and while miso soup is usually served as an appetizer, the rice noodles bulk up the recipe to make it the perfect lunch or light dinner. Plus, miso is packed full of B vitamins and protein, so it's a great addition to your daily diet!