Who doesn't love creamy, perfectly ripe avocado slices? I had a couple of these perfect avocados that I needed to use up within the day, so of course I decided to go with my absolute favorite avocado salad recipe.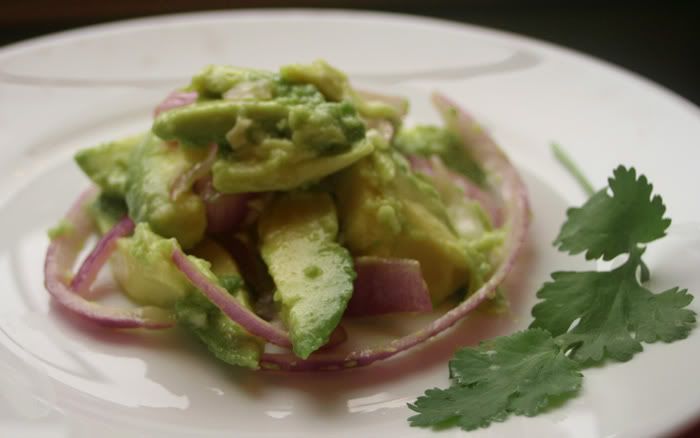 The best Avocado Salad you'll ever have
2 ripe avocados
1/2 small red onion, thinly sliced
1 large clove garlic, crushed
1 tablespoon fresh lemon juice
1 1/2 tablespoons olive oil
1 tablespoon umeboshi vinegar
Note on ingredients: Avocados can usually be found on sale at most grocery stores every few weeks, so be sure to check your flyers.
Umeboshi vinegar is often really marked up at grocery stores, but I have found big bottles at natural food stores for less than $5. It will last you awhile, and I've used it in stir frys and salad dressings with great results.
In a good sized bowl, place onion and garlic. Add lemon juice and vinegar, and stir to cover. Let marinate for 10 minutes.
Peel and slice avocados and add to the bowl.
Pour olive oil on top, and mix gently to blend. Serve immediately.
Serves 2